Eagle Nest Myrtle Beach Golf Reviews
Experience world-class golf in a wilderness setting at Eagles Nest Golf Club on the northern Grand Strand. Are you looking for a great golf experience at a great price then book and Save on Eagle Nest Golf Round or call us @ 866.531.6611. If you are booking same day online then you need to call us @ 866.531.6611 or looking for a golf package fill out the quick quote below.
Located in the waterfront fishing village of Little River, just south of the Carolina border, this 250-acre property acts as much as a wildlife preserve as a golf course. The 18-hole layout was designed by renowned architect Gene Hamm, a Carolina native who has a reputation for carving classics out of diverse terrain,
Eagles Nest certainly fits the bill, blending in with the natural surroundings to present an enjoyable experience along with a true test of golf. Opened in 1971, Eagles Nest has undergone several facelifts over the years to keep pace with newer courses, including a complete makeover of the layout and clubhouse in 2001.
But the setting is still teeming with nature. One might see an alligator sunning on the shore of the many natural water hazards, a family of black bears sneaking through the woods and a virtual bird aviary in the treetops, wetlands and skies. Even a bad day on the golf course is nice walk through the wilderness for nature-lovers.

That's why Eagles Nest is an appropriately named golf course, not only for the birds of prey that can often be spotted flying high above the towering pines but also for the comfortable, relaxing atmosphere that makes golfers feel right at home. But visitors may find it easier to find a birdie or eagle in the sky than on the golf course.
With a course rating of 71.8 and a slope rating of 126, this par-72, 6,901-yard beast is both tough enough to challenge low handicappers while also providing an enjoyable round for high handicappers. Word to the wise: Stay in the fairways even if it costs you a little distance. In this case, it's better to be safe than soggy.
Placid lakes and ponds are sprinkled around the course, which is framed by dense maritime forest. The Bermuda fairways are wide and present golfers with opportunities to go for it when the risk is worth the reward. Chances to drop a stroke are enhanced on the course's new MiniVerde Bermuda-grass greens, making for a smooth putting surface.
The running joke about Eagles Nest is that it features 15 warm-up holes for the toughest three finishing holes among the 100 links on the Grand Strand, anchored by the 576-yard par 5 No. 17. The course's signature hole requires the first two shots to be on target to have a chance at breaking par and a perfect approach avoiding bunkers and water hazards.
The staff is known for its Southern hospitality and helpfulness toward golfing guests, including an impressive clubhouse with a 19th hole, snack bar and pro shop. A driving range and putting green are available for those who want to work on their strokes before and after their rounds, and pro lessons can be arranged in advance.
Eagle Nest Myrtle Beach Tee Deals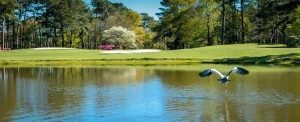 Name: Eagle Nest Golf Cub Located in Myrtle Beach, SC
Description: Experience world-class golf in a wilderness setting at Eagles Nest Golf Club on the northern Grand Strand.
Price range: $30 - $65
Payment accepted: Credit Card
Currencies accepted: USD
Address: 401 Eagles Nest Rd, Little River, SC 29566
Telephone: (866) 531-6611
Course Condition

Course Pace

Course Layout

Value

Customer Service

Package Experience

Course Amentities
Comments Rating
( reviews)
Myrtle Beach Golf
Average rating:
3 reviews
Mar 5, 2015
Loved Playing Eagles Nest MB
I love playing this course. The staff is great. The course is in good shape and they take good care of you while your there. Always play well at Eagles Nest. My son and I enjoyed our day together. It was the first time he beat me but it was still fun!
Mar 1, 2015
Really Nice Golf Course Myrtle Beach Area
I really didn't think Eagles Nest would be as good as it was. So I was pleasantly surprised. Paid $46 to tee-links. Course is a great layout and in good shape. Could use more yardage markers. And was over booked. But other than that, I will go back!!
Feb 19, 2015
Really Enjoyed this Course in Little River SC
Just got done playing this course and I must say I was very impressed with the condition considering the winter the area has had. Fairways were great as were the greens. The staff is very friendly and will make sure I play here again. Without a doubt one of the best little secrets as far as courses go for the MB area.