3, 4, 5 or 6+ Nights – Golf Cart and Green Fees Included. Get a must – have golf package with popular picks – Grand Dunes, The Witch, Wizard, ManoWar, Kings North, Palmetto, West Course and substitute and course if you like. See Course Reviews below: Centrally Located Villas – in the Heart of Myrtle Beach Or North Myrtle Beach.
Amenities
• Outdoor Pool
• BBQ Area
• Restaurant at Club House
• Winter Rental
• Onsite Golf Course(s)
• Fully Equipped Kitchen
Central Myrtle Beach Villas
Convenience is never an issue during a stay at this Resort, with all vacation condos featuring modern amenities like multiple TV's, full-service kitchens and washer / dryer combinations.These villa offers the perfect accommodations for a family or golf getaway. Located in the Central Myrtle Beach about 10 minutes from the Myrtle Beach airport. A variety of condo sizes are available, from one to three bedrooms with various bedding options. Outside your vacation rental condo, leisure and recreation options are at your fingertips, with features like indoor/outdoor pools, hot tubs, tennis courts and grilling areas.
Myrtle Elite Golf Package includes:
Golf Cart
Green Fees
2 Bedroom Villa in the heart of Myrtle Beach – near Entertainment and Restaurants.
4 Rounds of Elite North Myrtle Beach Golf
Myrtle Beach Elite Golf Courses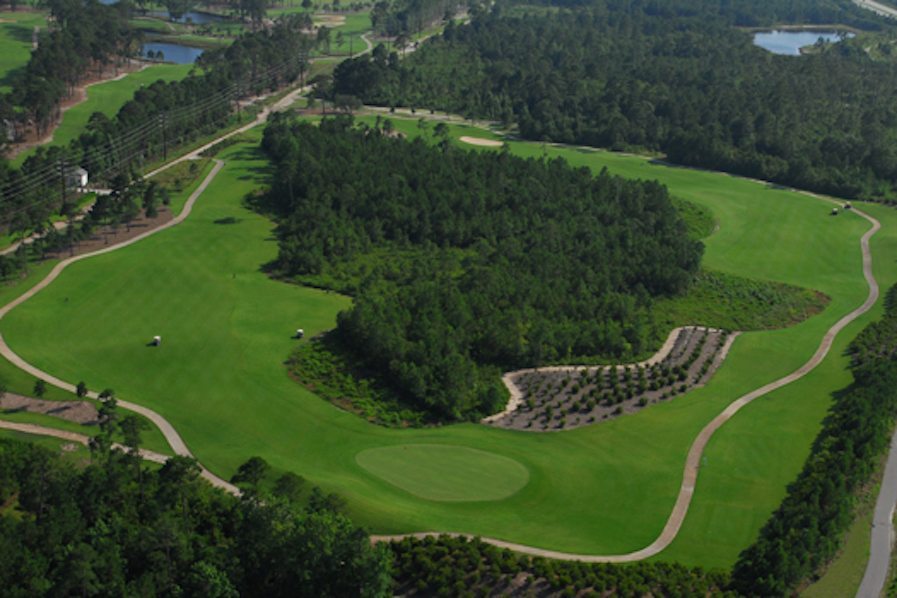 Pine Lakes Golf Club
No one will ever claim Pine Lakes do be a particularly difficult course, but it does manage to keep your attention. At just short of 6,700 yards and a par-70, this is one of those very playable tests that you shouldn't lose many balls or need to hit lofted spinning approaches into shallow elevated putting surfaces. There are several ponds to capture sloppy play, but nothing too penal. The greens were restored to their original largeness with only a few sweeping breaks and nothing too severe, while the paspalum surfaces putt smoothly with medium speed. There are many good holes, but I particularly favored the stretch between the 14th and 17th. They play through the pines and constitute a wonderful walk. Speaking of walking, the routing is easily walked though the two new holes require a bit of a hike. For the most part, the terrain is very level, and the holes feature generous avenues to push-up greens that usually invite a run-up approach. There is a bit of mounding around a few putting surfaces, but overall the look is natural and unforced – more on the minimalist side.
Pine Lakes was originally built in the 1920's and meant for the rich and famous. It's 27 holes have been condensed to 18 holes that were redesigned in 2009. The entire course was changed over to SeaDwarf Paspalum to better withstand the humidity and salt air of our area. Pine Lakes is also where Sports Illustrated was conceived. Playing at par 70 and 6,675 from the tips Pine Lakes is a very fair test of your game. It has retained its Scottish theme over the years and is called "The Granddaddy" by many.
River Hills Course
River Hills Golf and Country Club is located in the historic seaside village of Little River, South Carolina, near North Myrtle Beach. Designed by Tom Jackson, the golf course offers magnificent 18-holes with fairways that meander through a picturesque, heavily wooden terrain. River Hill's rolling hills, unusual for a coastal course, are this layout's signature. Find out why locals and visitors alike keep River Hills on their list of "must play" Myrtle Beach golf courses- it's the unbeatable combination of service, course conditions and value, in a gracious setting of natural beauty and Southern charm.
River Hills is packed with tricks and obstacles. The water hazards are placed strategically throughout the course just to provide you with a little more challenge. From doglegs to water traps, this is sure to be a course you'll always remember and come back to for more!
River Hills was named to Golfweek's "Top 50 in the Southeast" and is a favorite for local and visiting golfers. The course features a rating of 69.8 and a slope of 125.
Wild Wing Course
The Avocet, designed as a signature course by the team of Jeff Brauer and Larry Nelson, presents creative contouring, elevated tees and greens, and an all around uniqueness that cannot be matched.
The opening hole, a 402-yard par-4, sports grass depressions in lieu of sand bunkers around the green. The par-4 sixth hole features a three-tiered, double green shared with the par-3 17th. The 362-yard ninth, considered by many to be the signature hole, has a double fairway bisected by a line of grass and sand pot bunkers.
Here, each hole is memorable for it's enjoyment and playability and golfers come back to this favorite year and after year.
Players will appreciate the variety in the design which includes large, raised, undulating bent grass putting surfaces that roll quick and true. The lush, tree lined fairways present ample landing zones, affording all levels of players with an opportunity to score well and to recover from slightly errant tee shots. Some of the mounding features are spectacular, as witnessed by the design of the par five 15th – both along the fairway and green side. The undulations near the putting complexes result in swales and collection areas that facilitate recovery, but golfers will have to earn it as some of the up and downs from the slopes can be tricky.
Wild Wing also has a driving range, chipping range and putting green within steps of the clubhouse.
Travel packages made simple with villas or condos to fit your family or golfing trip with the boys. Get your customized golf package or just need accommodations we have that too.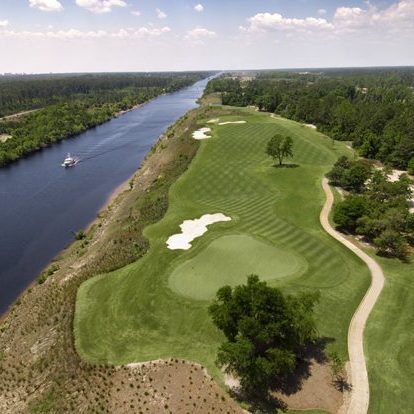 Grand Dunes Golf Club
Grande Dunes Resort Club is a spectacular layout by Roger Rulewich located on a high bluff that creates a spectacular view of the Intra-coastal Waterway. The large subtle rolling Bermuda grass fairways leading to large Champion Bermuda grass greens that have recently been changed over from L-93 Bent.
The maintenance is superb. 5 holes along the Intracoastal Waterway are on high buffs with ocean breezes blowing across the course. The Spanish style clubhouse is very upscale with excellent food and cold beverages in the lounge. The 19th hole is one of the best on the beach. The large practice area from a chipping and separate putting course. You can chose from 6 tees with yardage from 5,353 to 7,618. The greens are huge with some interesting undulations. Bring your "A" game.
Course Condition

Course Pace

Course Layout

Value

Customer Service

Package Experience

Course Amentities