Calabash is not only a great place to golf it also one of the best places to dine especially when it comes to seafood one name stands out "Calabash North Carolina".
Over time a distinctive Calabash style of seafood emerged, grew popular and helped put the town on the map. Sitting on the banks of the Intracoastal Waterway, Calabash still retains much of its original small town fishing-village atmosphere. The restaurants are numerous, and deep-sea fishing boats are docked in town waiting to take visitors for the adventure of their lives.
Top Restaurants Near Calabash NC Video
The Brentwood Restaurant & Wine Bistro
The The Brentwood Restaurant & Wine Bistro is considered the most haunted restaurant in South Carolina but don't let that scare you the food is amazing.
The Brentwood Restaurant in Little River, South Carolina is recognized for a whole lot more than just fine, french cuisine.  In our neck of the woods, it's known as the most haunted restaurant in all of South Carolina.  It was featured on the A&E Biography, My Ghost Story in 2011, but strange things have been happening long before that.
The home was built in 1910 and when owners Eric and Kim Masson purchased the home in 2007, they had no idea it was haunted. It didn't take them long to find out.  Come along with us, and ghost tour host, Mike Neff as we search for paranormal activity.  You'll even see actual footage captured by the Masson's surveillance cameras.
This award wining restaurant is Chef owned & operated. Chef Eric Masson welcomes you to enjoy his unique Low Country French cuisine. Located in a 1910 historic Victorian house, The Brentwood features five elegant private dining rooms with two bars, five fireplaces and an impressive wine collection.
The Waterfront Seafood Shake Offers Fresh Catch Seafood.
The restaurant specializing Calabash-style fried seafood. Menu items include fried oysters, scallops, shrimp, flounder, and crab cakes platters alongside steamed blue crabs, clams, oysters, and shrimp. Landlubbers appreciate fried chicken tenders, onion rings, deep fried corn, chicken wings, cheeseburgers, grilled chicken sandwiches, and loaded hot dogs. Waterfront Seafood Shack is open for lunch and dinner Monday – Saturday 11am – 9pm.
Ella's Seafood Restaurant
It is a typical Calabash style restaurant. If you are looking for very good Calabash style seafood, Ella's is an excellent choice. Great food, fresh and tasty a menu that includes everything from fish to hamburger and steaks. You can't go wrong eating where the locals go -and Ella's is no different. The shrimp, flounder and soft shell crab are restaurants favorites. Reasonably prices and nice atmosphere.
If you want to sample Calabash seafood the right way, try the deluxe platter. The plate of shrimp, flounder, scallops, oysters and deviled crab is served with french fries, cole slaw and hushpuppies, all fried to golden perfection. (Except for the crab – it's baked – and, of course, the cole slaw). It's the perfect introduction to Calabash-style seafood and is big enough for two hungry diners
Sea Captain Calabash Restaurant
Sea Captains Calabash Seafood is a fairly traditional seafood restaurant that features a host of seafood selections in addition to southern-influenced fare. Open for breakfast, lunch and dinner, this casual eatery will satisfy a craving for a vast selection of seafood favorites on a modest budget.
Top Restaurants Near Calabash NC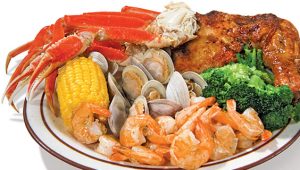 Name: Restaurants Calabash NC
Description: Calabash is not only a great place to golf it also one of the best places to dine especially when it comes to seafood one name stands out "Calabash North Carolina"
Price range: $10 - $28
Payment accepted: Credit Card
Currencies accepted: USD
Address: Calabash NC
Telephone: (843) 438-4112
Dishes

Customer Service

Food
Comments Rating
( review)