Architect: Tom Fazio, (843) 277-9468 – South Myrtle Beach South Carolina
Blackmoor is a must play in the Myrtle Beach area. It's creative, well maintained and extremely friendly. Everyone does a little of everything. An assistant golf professional was working the bag drop, while another was working the counter. Seniority doesn't determine who does what. It rotates.
The par-3 15th hole at Blackmoor Golf Club rejects anything that doesn't land and stay on the green.
Blackmoor Golf Club, a Gary Player Signature course, was built on the historic Longwood Plantation, whose heritage as an antebellum rice plantation along the majestic Waccamaw River accounts for much of its charm. The 18 championship holes feature flowing lakes, moss-draped oaks, lofty pines, and ever changing cypres
Out on the golf course, the same do-whatever-it-takes efforts prevail. The fairways are lush, while the greens are smooth and fast.
Gary Player's only Myrtle Beach-area golf course starts out with a par 4 with a bit of a marsh carry (nothing to worry about) and a wide fairway. From there, it's up to an elevated green that is fronted by two large bunkers. Piece of cake.
The second hole is a par 3 with a wall of bunkers behind it, and the third is a par 5 that goes down, then up a valley with a marsh carry at its floor. The fourth is a par 3 with a huge alligator that suns next to the front tees. Yes, he's real no matter what your so-called buddies tell you. The alligator does notlike to be petted but would like your arm for dinner.
The sixth is an open hole with a spine running down the middle of the fairway and spokes emanating from the green that prevent any attempts of a bump and run.
The best hole at Blackmoor Golf Club, heck, for miles around, is the split eighth. Go right around a woods and turn right to get to the green. Or, shave off 80 yards and go right for the green through a chute that was recently tamed. Scores of trees were removed and waist-high vegetation cut back. Going that route isn't as punishing as it was a few years ago, but it's still risky.
The personality of the back nine is a little sassier. The 11th is contoured with a large tree in the left third of the fairway and a ridge past it that feeds anything left of center toward the woods. The green slopes the same way, so if you're coming in from the right, your ball probably won't stop on the green.
Blackmoor Course Reviews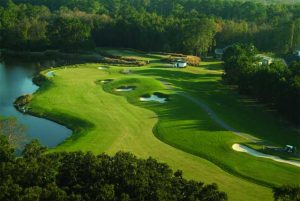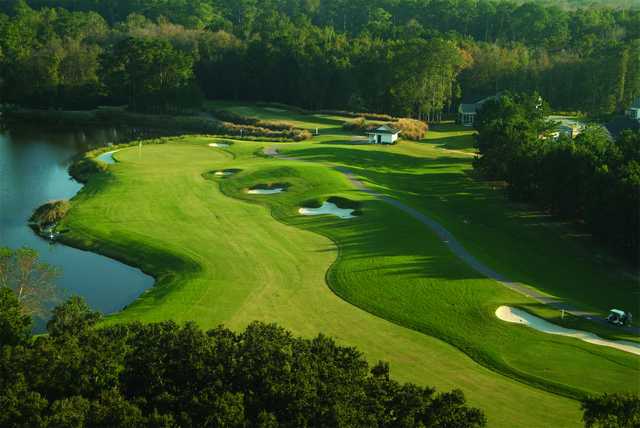 Place Name: Blackmoor Golf Club
Place Description: Golfing top courses in South myrtle Beach
Course Condition

Course Pace

Course Layout

Value

Customer Service
Comments Rating
( reviews)