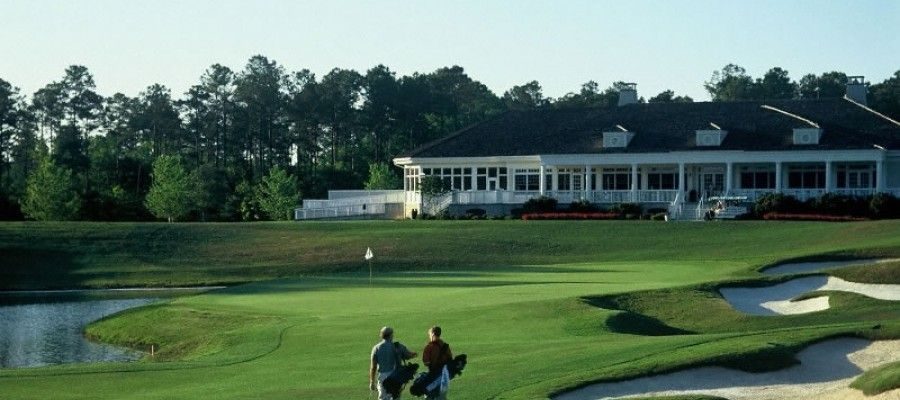 Myrtle Beach Prime Golf Package Deal
4, 5, 6, 7 or 8 Rounds of Prime Golf
3 or 4 Nights – Golf Cart and Green Fees Included. Get a must – have golf package with popular Golf Course Picks – Blackmoor, Founders Club, Litchfield, Tradition, Wilbrook and substitute and course if you like. See Course Reviews below…
Centrally Located Hotel – in the Heart of Myrtle Beach
Central Myrtle Beach Resort
Convenience is never an issue during a stay at this Resort, with all vacation featuring modern amenities. The modern rooms include pillow-top mattresses, free WiFi and flat-screen TVs with HD channels, plus coffeemakers. Upgraded rooms and suites add mini fridges and microwaves. Kids 18 and under stay free with a parent or grandparent.
Amenities
Outdoor Pool
fitness center
Restaurant at Club House
2 Blocks from the Beach
Golf Course(s) Near by
In the heart of Myrtle Beach
Myrtle Beach Prime Golf Package includes:
Golf Cart
Green Fees
Resort in the heart of Myrtle Beach – near Entertainment and Restaurants. 2 blocks from the Beach
4 Rounds of  Myrtle Beach Golf
Myrtle Beach Prime Golf Courses
Blackmoor Golf Club
is a must play in the Myrtle Beach area. It's creative, well maintained and extremely friendly. Everyone does a little of everything. An assistant golf professional was working the bag drop, while another was working the counter. Seniority doesn't determine who does what. It rotates.
The par-3 15th hole at Blackmoor Golf Club rejects anything that doesn't land and stay on the green.
Blackmoor Golf Club, a Gary Player Signature course, was built on the historic Longwood Plantation, whose heritage as an antebellum rice plantation along the majestic Waccamaw River accounts for much of its charm. The 18 championship holes feature flowing lakes, moss-draped oaks, lofty pines, and ever changing cypres. Out on the golf course, the same do-whatever-it-takes efforts prevail. The fairways are lush, while the greens are smooth and fast. Gary Player's only Myrtle Beach-area golf course starts out with a par 4 with a bit of a marsh carry (nothing to worry about) and a wide fairway. From there, it's up to an elevated green that is fronted by two large bunkers. Piece of cake.
The second hole is a par 3 with a wall of bunkers behind it, and the third is a par 5 that goes down, then up a valley with a marsh carry at its floor. The fourth is a par 3 with a huge alligator that suns next to the front tees. Yes, he's real no matter what your so-called buddies tell you. The alligator does notlike to be petted but would like your arm for dinner.
The sixth is an open hole with a spine running down the middle of the fairway and spokes emanating from the green that prevent any attempts of a bump and run.
The best hole at Blackmoor Golf Club, heck, for miles around, is the split eighth. Go right around a woods and turn right to get to the green. Or, shave off 80 yards and go right for the green through a chute that was recently tamed. Scores of trees were removed and waist-high vegetation cut back. Going that route isn't as punishing as it was a few years ago, but it's still risky. The personality of the back nine is a little sassier. The 11th is contoured with a large tree in the left third of the fairway and a ridge past it that feeds anything left of center toward the woods. The green slopes the same way, so if you're coming in from the right, your ball probably won't stop on the green.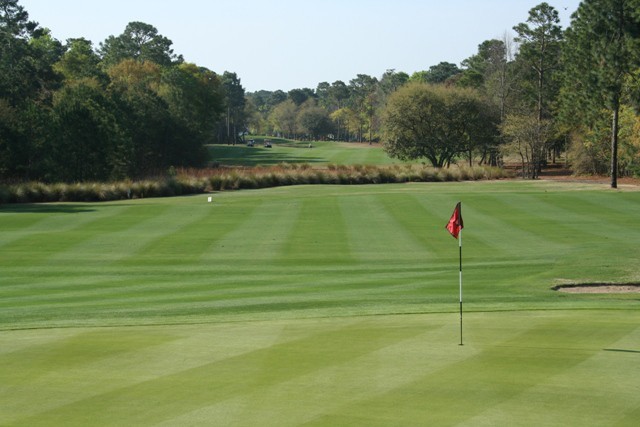 Tradition Course
Set Among the rolling terrain of a 16th century plantation, is a Ron Garl course designed in the tradition of the great courses from around the world. Test your power on large landing areas that allow for big swings off the tee and your accuracy against well-guarded greens that require precise shot making. Combined with exceptional beauty, it's a course that is as enjoyable to play as it is challenging.
There are 30 sand hazards of various shapes and sizes in the form of waste bunkers and fairway or greenside traps, and water hazards come into play on 7 holes, with a couple forced carries. The par four 7th has an island green with a depth of 36 yards. An accurate drive to near the 120 yard marker will leave a short iron or wedge to this daunting green complex on this high handicap hole. The following par four plays to 430 yards from the tips with a long waste bunker to the right helping to make this the number one handicap on the course. Number 14 features an approach over a pond (about 60 yards out) and the par three 15th also presents what amounts to an island green, with sand bunkers to the left of the putting surface also presenting challenge. The layout is tree lined throughout with plentiful landing zones, and with green complexes that are slightly raised and mildly undulating. The sand traps are mostly low-lipped and non-penal in nature, making this a player friendly experience for the novice golfer. There is generally plentiful recovery room green side. Once on the putting surfaces golfers should eb able to score well as these bent grass greens put quick and true.
The Tradition Club continues to garner rave reviews! Located adjacent to the Willbrook community in Litchfield Beach, the Tradition Golf Club brings to the low country a championship course that boasts the proud traditions of the great courses that stood the test of time. Amenities abound at the Tradition, from comfortable dining-indoors and out-to our elaborate practice facility unequaled anywhere. Come experience the serenity of the game amid unsurpassed natural beauty.
Founders Club Course
The 18-hole Founders Club At Pawleys Island in Pawleys Island, SC is a semi-private golf course that opened in 1970. Designed by Gene Hamm and Thomas Walker, Founders Club At Pawleys Island measures 7007 yards from the longest tees and has a slope rating of 139 and a 74.1 USGA rating.
The course features 4 sets of tees for different skill levels. Greens and fairways are bermuda.
This exceptional layout was built on the former site of Sea Gull Golf Club and guests will come away remembering not only their best shot, but every shot. This Thomas Walker design has stunning visuals as well as isolated tee areas… an excellent selection for your golf outing.
The waste bunkers provide a challenge, particularly for higher-handicap amateurs; the rolling fairways that can leave downhill, uphill or side hill lies at times; the greens have quite a bit of undulation; and the course also has water hazards, greenside bunkers, greenside hollows, wetlands, tree lines and out of bounds stakes along some fairways to navigate from its five sets of tee boxes.
The golf course is a great layout. It's fair from the back but it's a tough golf course. When they say 1 to 4 handicap to play the back tees they mean it. " I don't think it's a golf course you're going to show up and play your best the first time. A lot of course knowledge is needed. There are some blind areas off the tee and into the green, and there are some places you don't want to be. It's a position golf course."
Once you've finished your round, relax in a rocking chair on the wrap-around porch of their low-country styled clubhouse. Enjoy an excellent meal in the clubhouse dining room. Meeting facilities are available for awards and banquets.

Willbrook Golf Course
The 18-hole Willbrook Plantation Golf Club in Pawleys Island, SC is a semi-private golf course that opened in 1988. Designed by Dan Maples, Willbrook Plantation Golf Club measures 6732 yards from the longest tees and has a slope rating of 131 and a 72.5 USGA rating. The course features 3 sets of tees for different skill levels. Greens and fairways are bermuda.
Willbrook Plantation been featured on the popular tv show "Nature Scene" for its blending of man and nature. The lakes and natural areas are teaming with indigenous wildlife, including ducks, hawks, deer and alligators. Consistently rated as one of the Myrtle Beach area's top golf courses, Willbrook Plantation has gone well beyond its niche as one of South Carolina's most popular for women golfers, once ranked among the "50 Best Courses for Women in America".
River Club Course
Course is challenging but fair. It was in great condition. There was a chipping area and a spot to hit into a net with golf balls for all to use. Staff is very friendly. Definitely recommended. Holes 14 and 18 are featured in the book The 100 Greatest Holes along the Grand Strand, – published by The Sun News The semi-private River Club has proven to be one of the most challenging courses in the Myrtle Beach area and features A-1 bent grass greens. The only course in the south strand to have bent greens, this Tom Jackson signature course.
River Club is one of the premier plantation courses and a favorite among returning golfers. True to its name, River Club features water on 15 of 18 holes, and over 100 sand traps and bunkers. Long hitters have some room off the tee, but approach shots need to be true. The dramatic par-5, 18th is unquestionably one of the finest finishing holes on the Grand Strand, offering risk and reward to those who can carry the water twice for a possible chance at eagle.
River Club is a semi-private facility and the only course on the south end of the Grand Strand with Bent grass greens. True to its name, you will find (but hopefully not often) water on 15 of the 18 holes. Couple the water with over 100 sand traps and you have a very challenging layout to deal with. Long hitters may find some room off the tees but the approach shots better be on the money. The par 5 18th hole offers risk and reward to those who can carry the water twice for a possible chance at eagle on the horseshoe shaped hole.
Travel packages made simple with villas or condos to fit your family or golfing trip with the boys. Get your customized golf package or just need accommodations we have that too.
Course Condition

Course Pace

Course Layout

Value

Customer Service
Comments Rating
( reviews)