Witch Golf Packages Starting at $220
Play some of the Best Courses in Myrtle Beach:  Witch, Wizard & Man O War. Top golf sure to please, play courses know for their beautiful layouts. Lodging + Golf = Savings. Choose your perfect accommodation with a wide variety of options – Villa or Resort – we can plan the perfect trip.
Enjoy Packages for as little as $250 pp.
Resort Amenities
• Outdoor Pool
• BBQ Area
• Restaurant at Club House
• Winter Rental
• Onsite Golf Course(s)
• Fully Equipped Kitchen
Central Myrtle Beach Villas
Convenience is never an issue during a stay at this Resort, with all vacation condos featuring modern amenities like multiple TV's, full-service kitchens and washer / dryer combinations.These villa offers the perfect accommodations for a family or golf getaway. Located in the Central Myrtle Beach about 10 minutes from the Myrtle Beach airport. A variety of condo sizes are available, from one to three bedrooms with various bedding options. Outside your vacation rental condo, leisure and recreation options are at your fingertips, with features like indoor/outdoor pools, hot tubs, tennis courts and grilling areas.
Centrally Located Villas – in the Heart of Myrtle Beach
3, 4, 5 + Golf Rounds. Your Choose and Save.
Mystical Golf Package Includes:
Play all three courses – The Witch, The Wizard and The Man O'War Golf Courses
Stay in a 2 or 3 bedroom Resort Golf Villas each with beds for 4 golfers.
FREE LUNCH each day at the golf courses
2 FREE BEERS or beverages with each round
FREE range balls with each round ($12 value)Golf Card and Green Fees
Golf Cart
Free REPLAY on the day of play – only when space is available
Many dining options just minutes away.
Wizard Golf Course
The course rating is 70.4 and it has a slope rating of 119 on Bermuda grass.  Designed by Dan F. Maples, ASGCA, the Wizard golf course opened in 1996. Tim Sautter manages the course as the General Manager.
The Wizard can be difficult for those who aren't hitting it straight off the tee, but the greens are the toughest part. All other aspects of course conditioning were immaculate.
Mesmerizing, magical, and mystical thrills await you at The Wizard! Mountains have magically sprung up at the site of The Wizard, giving you the perfect elevation challenge in the most unlikely of places! With the biggest surprise awaiting you at the finish line, The Wizard is ranked the most difficult of the Mystical Golf Trio of courses. The course is, however, the most player-friendly and doesn't taunt you with extremely unrealistic lengths but instead flaunts wide fairways and large greens.
Travel packages made simple with villas or condos to fit your family or golfing trip with the boys. Get your customized golf package or just need accommodations we have that too.
ManOWar Golf Myrtle Beach
Built along a 100 acre lake with towering pines and back-to-back island greens on hole 14 and 15 with a island ninth hole like you never have seen before. Rated 4-stars by golf digest, Man O' War has few trees bringing wind into play and wall to wall mowed fairways.
There are 4 sets of tees designed to provide opportunities for golfers of all skill levels to enjoy a round here. The tips measure 6967 yards and play to a slope of 141. Alternate sets measure 6402 yards/130 slope, 5729 yards with a 120 slope and 5033 yards with a slope of from the forward tees. This is a very challenging round of golf from the tips, but is very player friendly from the 3 remaining sets.
The Witch Golf Myrtle Beach
The Witch sits comfortably in the middle class in terms of price and difficulty. But this isn't your average Myrtle Beach Golf Course. From an overall golf experience, it overachieves, thanks to getting it right around the details both on the course and with service.
This is reflected in a recent reader's poll by the Myrtle Beach Sun News as the best golf course for the money and a finalist for Myrtle Beach's best golf course.
Mystical Golf Packages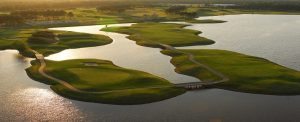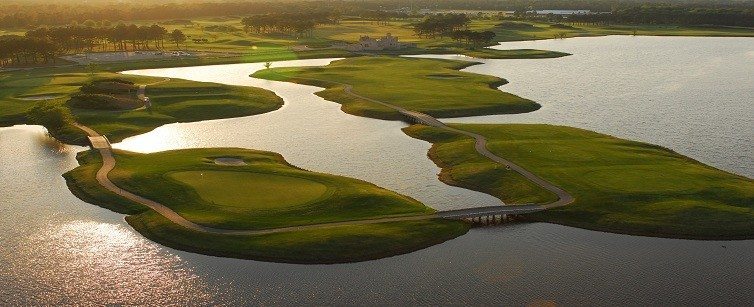 Place Name: Myrtle Golf Myrtle Beach
Place Description: Myrtle Beach South Carolina
Course Condition

Course Pace

Course Layout

Value

Customer Service
Comments Rating
( reviews)