In the world of golf, sometimes the hardest shots are also the shortest ones. Golf fans may marvel at those spectacular hole-in-one shots, but just as often, the golfers who are accurate over short distances are the most successful.
Whether your goal is to go out on the pro circuit someday or just have a good time with your regular foursome, you need to know how to handle the occasional chip shot. Even the best golfers end up with chip shots once in a while, and how they handle them can make a huge difference in their final scores. Here are some tips for handling those chip shots like a pro.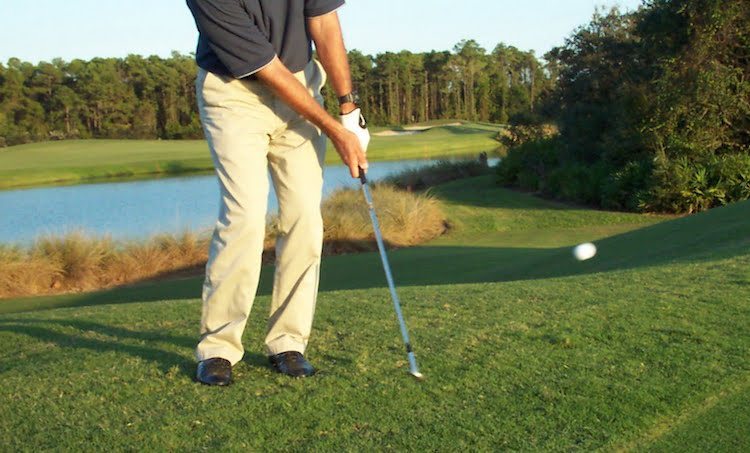 Visualize your shot. Instead of focusing on where the ball is currently, focus on where you want it to be. Visualization is a vital skill for any golfer, and it will serve you especially well when you need to make a tough chip shot.
Choose your club with care. It is important to choose the right club before attempting a chip shot. A sand wedge works well for tight shots of less than 15 feet, while a 7-iron is a good choice for longer chip shots.
Practice as much as you can. Even if it means deliberately creating chip shots, practice is vital to learning this unique skill. Pick a day when you have plenty of time, set up some chip shots and experiment with the best way to recover from the situation.
Use a narrow stance when attempting a chip shot. Your feet should be no further than a foot apart, and your shoulders should be open and loose as you aim for the spot you visualized earlier.
When attempting a chip shot your hands should stay ahead of the ball. This will help you create the downward motion you need to lift the ball up and out of its unfortunate location.
No golfer wants to end up with a chip shot, but if you golf a lot you will end up in this situation sooner or later. As with so much in the world of golf, how you recover from adversity can make a huge difference in your game overall. The golfer who learns to handle those chip shots with grace and style will ultimately thrive, while the golfer who gets flustered will not.
You do not have to be an expert golfer to learn how to handle the occasional chip shot like a pro. Getting plenty of practice, learning to visualize the ball and where you want it to go, choosing the right club for the job and working on adjusting and refining your stance can all help you recover from those tough chip shots and get on with the rest of the game.
Course Condition

Course Pace

Course Layout

Value

Customer Service

Package Experience

Course Amentities
Comments Rating
( reviews)