Myrtle Elite Golf Package includes:
2 Bedroom Villa in the heart of Myrtle Beach – near Entertainment and Restaurants.
3 Rounds of Elite Myrtle Beach Golf – choose from Kings North, ManOWar, Wild Wing or Palmetto.
lunch and 2 Drinks for one of the courses per player
Golf Cart
Green Fees
Central Myrtle Beach Villas
Convenience is never an issue during a stay at this Resort, with all vacation condos featuring modern amenities like multiple TV's, full-service kitchens and washer / dryer combinations.These villa offers the perfect accommodations for a family or golf getaway. Located in the Central Myrtle Beach about 10 minutes from the Myrtle Beach airport. A variety of condo sizes are available, from one to three bedrooms with various bedding options. Outside your vacation rental condo, leisure and recreation options are at your fingertips, with features like indoor/outdoor pools, hot tubs, tennis courts and grilling areas.
Centrally Located Villas – in the Heart of Myrtle Beach
Amenities
• Outdoor Pool
• BBQ Area
• Restaurant at Club House
• Winter Rental
• Onsite Golf Course(s)
• Fully Equipped Kitchen
Myrtle Beach Elite Golf Courses

MBN Kings North Golf Couses
MBN Kings North Course Myrtle Beach
This sensational Arnold Palmer signature course was recognized among America's Best New Courses when it opened in 1996. King's North made its way onto Golf Digest's prestigiuos list of "America's 100 Greatest Public Courses- 2004" and Golf Digest's "Places to Play" has awarded it 4.5 STARS ever since! Plus, from 2000-2004 Golf for Women ranked it their "Top 100 Courses in America", truly a must play in the Myrtle Beach area. Famous for the island green and South Carolina shaped sand traps of Hole 3; the famed par-5 sixth hole, nicknamed "The Gambler" that tempts golfers with a shortcut to the green via an island fairway. (Two great shots allow a chance to eagle); and with over 40 sand traps guarding the fairway on Hole 18 it is easy to see why this has been the most recognized and requested course on the beach for over 25 years. Ask about the Prime Times Rewards Package,or book Real Time TEE TIMES ONLINE.Combine King's North with the other two Palmer Signature Courses at Myrtle Beach National Golf Club and enjoy discounted rates for playing multiple rounds with us.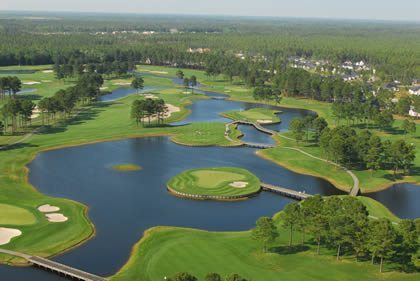 ManOWar Golf Myrtle Beach
ManOWar Course Myrtle Beach
Built along a 100 acre lake with towering pines and back-to-back island greens on hole 14 and 15 with a island ninth hole like you never have seen before. Rated 4-stars by golf digest, Man O' War has few trees bringing wind into play and wall to wall mowed fairways. There are 4 sets of tees designed to provide opportunities for golfers of all skill levels to enjoy a round here. The tips measure 6967 yards and play to a slope of 141. Alternate sets measure 6402 yards/130 slope, 5729 yards with a 120 slope and 5033 yards with a slope of from the forward tees. This is a very challenging round of golf from the tips, but is very player friendly from the 3 remaining sets.
There are 59 nicely conditioned sand bunkers situated along the landing zones on the gently rolling fairways or greenside. The highlight for many golfers will be the back to back island green complexes on the par three 17th and par five 18th. There are other challenges along the way but these finishing holes can make or break a round – and certainly are what many golfers will remember. The many bridges and wood retaining walls also provide aesthetic beauty.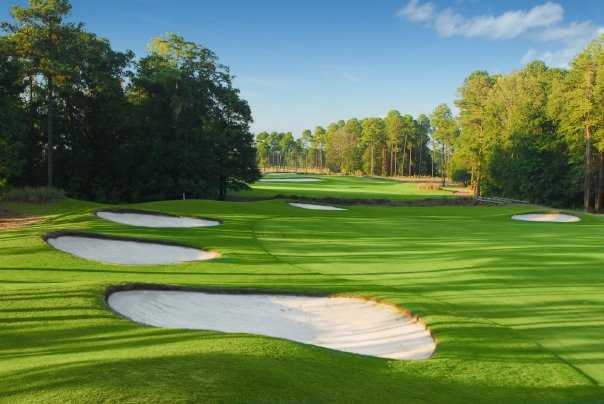 Wild Wing Golf Course
Wild Wing Course Myrtle Beach
Wild Wing Course features include some gently elevated tees and greens, double fairways, grass bunkers and a long double green that services the 6th and 16 holes. Water plays a strategic role in the design, as hazards come into play in some shape or form on 13 of the holes. The 14th and 18 dogleg around lakes that create risk/reward opportunities on both holes. There also are 62 intricately designed fairway and greenside sand bunkers, filled with high quality soft white sand. Four sets of tee boxes play to distances and slopes measuring 7127 yards/132 slope, 6614 yards/125 slope, 6028 yards/116 slope and 5298 yards with a player friendly slope of 118 for women hitting from the forward tees. The course uses the Kirby Marking system, with yardage blocks posted on the fairways of all par fours and five every 25 yards from 200 to 75 yards away (250 on par fives). Yardages are also posted every 50 yards on the cart paths, and information on the day's hole locations can be gleaned from the scorecards with green shapes and the triad pin placements of each hole.
Myrtlewood Golf – Palmetto
Home to two championship golf courses, PineHills and Palmetto, Myrtlewood Golf Club is set along the beautiful Intracoastal Waterway in the heart of Myrtle. You know you're going to face a challenge when you're greeted with "It's playing tough, today." Regardless of the set-up, the Palmetto course is still one of my all time favorite layouts. The Palmetto course is the only Myrtle Beach golf course designed by Edmund B. Ault and is landscaped for optimum play. Its traditional design makes this Myrtle Beach golf course a bit of a throwback. The slope of the fairways, old pine trees, the Tifdwarf Bermuda greens, and of course the hazards, offer the challenge to Myrtle Beach golfers of every level of play.
Even on its most benign day, it's going to require you're A-game. This beauty has everything. It has distance at 7015 yards (73.7/133) from the Blue tees, 6516 yards (71.4/130) from the White tees, 6009 (69.4/125) from the Gold tees and 5176 (69.7/116) from the Red tees.
Although a big hitters favorite, the shot-makers among us are drawn to this great layout, too. You'll hit every club in your bag and it's imperative you hit them to the correct spot. On virtually every hole it's more important where you hit, as to how far you're hitting. Being off the fairway on any hole is a recipe for bogey, or worse.
Although there are no forced carries on the Palmetto course, there are strategically placed fairway bunkers. Blend in water that frequently comes into play and a rough that can be very penal and you have the challenge that makes a great golf course. If you catch this one with the tees back and Sunday pin placements, you'll have a round to remember.
There are two things to keep in mind when playing the Palmetto course. Pay attention to the pin placements. The Bermuda greens are always in great shape, but with their undulation you'll not want to leave long putts. Listen to the starter when he tells you to club-up. You will not enjoy the iron carry you enjoy at home when you're play at sea level.
It's my practice to present a few holes on each course reviewed to share the character of the course through my average golfer eyes. It's difficult to select just a few on the Palmetto course. Every hole portrays the character of this magnificent layout.
From the White tees each of the Par 5s exceed 500-yards. No. 5, the No. 1 handicap hole brings everything into play. A sharp dogleg left tempts you to cut too much off the corner where a fairway trap awaits you. The perfect drive is center/left, but the big hitter needs to be cautious. I've seen long balls travel through the fairway and into the pond. A well-placed fairway wood should leave you a short iron into the green. As always, be aware of pin position. Do not leave yourself a long putt on any Palmetto course green. All Par 5s are three shot holes for the average golfer. Putt well and you'll find an illusive birdie, or two.
The Par 4 No. 14 is a favorite of mine. With water up the right side, keep your drive to left center. I know you're bringing a greenside bunker into play, but the fairway does slope towards the water. I've seen good-looking drives that should be in the first cut, get wet. Of course if the pin placement is front left forcing a difficult downhill putt, you're on your own. No. 18 is a classic finishing hole with the Intracoastal Waterway on the left and a wide-open inviting fairway. A scenic and challenging finishing hole that makes you earn a victory, if you're all even on the tee box.
With the Par 3s it's all about club selection. Pick the right club and make certain to get it to the pin. The Par 3s are well trapped and water does come into play on 3 out of 4. No. 11 does not have water, but at 190-yards from the White tees it has length. Remember to club up. In addition to sea level, you're going slightly up hill. This one is well protected by large traps on the front sides. The green slopes to the front, so if you're going to miss, miss short. No. 17 is also a shot-makers delight. Adjust to the elevation change on this hole and hit it tight. It's a great birdie opportunity.
The Palmetto Course at Myrtlewood Golf Club has been servicing locals and visitors for more than 30-years. There's a reason it's a favorite and in my humble opinion that reason is simple. This is a truly great venue and requires that you bring all of your game. From the tee box to the fairway to the short game and putting, you'll need it all to conquer the course.
Although few can do that on any given day, most average golfers appreciate a fair, but challenging golf course and will want to play it again and again. This one's stood the test of time. If you have not played Palmetto course add it to your list. If you have played this one, you already know to do so.
Travel packages made simple with villas or condos to fit your family or golfing trip with the boys. Get your customized golf package or just need accommodations we have that too.
Course Condition

Course Pace

Course Layout

Value

Customer Service

Package Experience

Course Amentities
Comments Rating
( reviews)
Myrtle Beach Elite Golf Packages
Average rating:
0 reviews