Discover Pawleys Island and Pawleys Plantation Vacation with convenient 2, 3, & 4 Bedroom Cottages surrounded by top golf courses with easy access to the most popular courses. Pawley's Island is a  relaxing Community with scenic, picturesque atmosphere all year long. Enjoy a unique seaside area with large swaths of undeveloped marshland, rivers, oceanfront state parks, seafood, and an array of top restaurants and bar with scenic views of the ocean.
Resort Villas
Villa include fully equipped kitchen, a dining area, a living room, a washer/dryer, pool and hot tub on property with a patio or balcony.
Resort Amenities
Beach Shuttle (Seasonal), Coastal Scoops Ice Cream Shoppe, Beachside Health & Fitness Center, Outdoor Pool, Play Pool Plaza, Indoor Heated Pool & Spa, Bicycle Rentals, Beach Chair & Umbrella Rentals (Seasonal), Hot Tub, Tennis, Club House, Restaurant
Pawleys Island Golf Packages
Pawley's Plantation Villas
Discover Pawleys Island a place that will take you back in time to its historic plantations, undeveloped marshes along with the perfect seaside experience. It is the perfect location to play golf where courses are designed throughout the plantations, amazing rivers and marshes. It doesn't disappoint. Play great golf like Pawley's Plantation, TPC, Blackmoor, Litchfield one of the oldest courses in the Myrtle Beach Area – with lots more courses to experience. Come, relax and play golf in the charm of Pawley's Island South Carolina.
Lodging + Golf = Savings
 This is an area where the natural beauty of the surroundings still exist. And within minutes of amazing restaurants, night life, entertainment & golf of course.
Pawleys Plantation Golf Course
Set amongst century-old oaks, Pawleys Plantation is the perfect place to play golf. Designed by Jack Nicklaus himself, the outstanding Pawley's Plantation golf course provides outstanding scenery at every round. This course has features you won't soon forget, including stunning marsh and lake views, Bermuda greens, unique split fairways, and an enormous double green. The par-3 number 13 begins with a 300-yard dike and a set of tees where the golfer can play from 40 to 145 yards–but must make the shot across the marsh! Golf Digest ranked Pawley's Plantation as one of the top courses in the Myrtle Beach, South Carolina area.
Founders Club Golf Course
The golf course waste bunkers provide a challenge, particularly for higher-handicap amateurs; the rolling fairways that can leave downhill, uphill or side hill lies at times; the greens have quite a bit of undulation; and the course also has water hazards, greenside bunkers, greenside hollows, wetlands, tree lines and out of bounds stakes along some fairways to navigate from its five sets of tee boxes.
Pawleys Island Cottages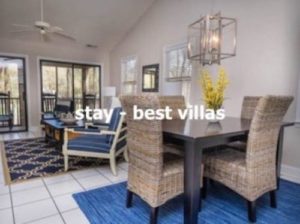 Name: Pawley's Island Golf Villas
Description: Discover Top Golf Trips - the best picturesque community of Pawleys Plantation SC.
Price range: $180 - $930
Payment accepted: Credit Card
Currencies accepted: USD
Address: Pawleys Island ,SC
Telephone: (866) 531-6611
Value

Customer Service

Package Experience
Comments Rating
( reviews)